Nearly every day I chat to artists and makers who are struggling with the business side of their creative pursuit. Not everyone wants to make a fulltime income from their craft, but to help those that do I wanted to start sharing resources that I've found useful or have recommended to others - let's share our knowledge and grow together!
I've spent countless hours researching the issues and looking for solutions that will help them monetise their talents and today I want to share one of my first 'go-to' suggestions for my right-brain comrades!
Jennifer Lee's book 'the Right-Brain Business Plan':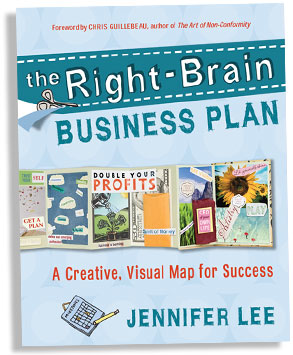 The Right-Brain Business Plan
is the perfect starting place for any aspiring (or struggling!) creative entrepreneur - it's all about building a road-map for your creative biz in an artistic and visual way.
Does the idea of writing a business plan fill you with dread? Have you already writen one, but it is gathering digital dust, shelved as soon as it was finished? Spreadsheets put you to sleep? If you answered yes to any of these then I can't recommend this book enough!
You'll be guided through the steps to create a plan that reflects your business goals, in a format that fits your style. It's a business plan you WANT to refer back to regularly!
There's worksheets, step-by-step instructions and stories from featured creative entrepreneurs, all in a conversational and supportive style that will give your right-brain a nudge in the right direction (ha! right, see what I did there??).
Have you created a Right-Brain Business Plan using Jennifer's book as a guide? I'd love to hear from you in the posts below!
Please note: the links in this post are affiliate links, however I would never recommend a program or product that I don't personally believe in.